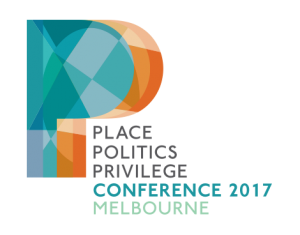 A research conference sponsored jointly by:

Community, Identity and Displacement Research Network, Victoria University
Identity Research Network, Swinburne University
Moondani Balluk, Victoria University
Download the conference program
here
Displacement, rupture and transformation increasingly characterise the nature of 21st century belonging and space, with important implications for identities, change and resistance. Despite the fluidity of such movement, we are also witnessing struggles to reinscribe prevailing privilege and power relations. As nations and communities deal with mass migration, economic displacement and environmental impact, a variety of responses to crisis and resistance are emerging. Political communities and identities, which are organised non-hierarchically and defy territory, and make use of virtual spaces, offer new ways of thinking about change, community and belonging. At the same time, we are also witnessing the revival of borders and the use of physical and virtual space to control and contain such impulses. From new cartographies and geographies, to different flows of life and modalities of organisation, space and place are constantly being revised and reinvented.
Papers will respond to:
The politics of privilege, displacement and boundary-making: including urban design and built environment, architecture, political economy, security, and other fields
Space, borders and belonging at the local, national or global scales, including the digital and non-material, as well as radical geographies which respond to mass migration, urban diversity and the reconfiguration of political space
New meanings of community: including new strategies of cultural identity and resistance, new solidarities, and possibilities for belonging.
Keynote:
Dr Tony Birch
Working Beyond Privilege: Aboriginal authority, hospitality and connectivity?
Thursday 16th February, 9:30am
Victoria University Conference Centre, Flinders Street Melbourne.
Dr Tony Birch is a renowned academic, writer and educator. He is currently the inaugural Bruce McGuinness Research Fellow at Moondani Balluk, Victoria University. He is a highly respected, award-winning author of many books and short stories, including Shadowboxing, Blood (shortlisted for the 2012 Miles Franklin Award) and The Promise (shortlisted for the 2014 Victorian Premier's Literary Award). His most recent novel, Ghost River (2015) won the Victorian Premier's Literary Award for Indigenous Writing 2016.
Public Lecture:
Dr Clare Land
Whiteness and Blackness in the Politics of Solidarity with Indigenous Struggles
Thursday 16th, 6:00pm
Level 11 Victoria University Conference Centre, 300 Flinders Street Melbourne.
Dr Clare Land is a long-time supporter of Indigenous struggles and author of the book Decolonizing Solidarity: Dilemmas and Directions for Supporters of Indigenous Struggles. She is a researcher at Moondani Balluk Academic Unit at Victoria University and also works at the Reichstein Foundation, one of Australia's most innovative philanthropic foundations.
Clare has been engaged since 1998 with the history and present of settler-colonialism. An Anglo-identified non-Aboriginal person living and working in south-east Australia, inspired by Aboriginal struggles, she has undertaken community-based organizing in solid support of a range of Aboriginal-led campaigns.
Clare has been a volunteer at 3CR community radio in Fitzroy, Melbourne since 2004. For 10 years, with Gunai/Maar man Robbie Thorpe, Clare co-presented a radio program on 3CR which focused on colonialism and resistance. She is also a member of the Police Stop Data Expert Working Group convened by the Flemington Kensington Community Legal Centre as part of their work against racial profiling.
Register for the public lecture here
Conference R

egi

stration:
Full: $270 Concession (including graduate students): $110
Day rate: $140
Register here. ***(On the registration page there is a space for 'student ID' – ignore this if you are not from VU)
For alternative ways to register contact us: CIDRN@vu.edu.au
Location:
The conference is located at 300 Flinders Street Melbourne. The first session of the conference, the keynote, is on level 11.
A map of the campus location is at:     https://www.google.com/maps?hl=en-AU&q=-37.8182038,144.9641196&sll=-37.8182038,144.9641196&z=13&markers=-37.8182038,144.9641196
Further information:
Contact:  CIDRN@vu.edu.au
Download the flyer
here