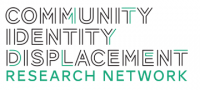 Like last year, CIDRN is coordinating a workshop series discussing methodologies, and how different methodologies can be used to consider questions around issues of community, identity and displacement.
The purpose of this workshop series is to create a forum for researchers investigating these issues to have a conversation about the different methodological approaches they take to these questions, and to consider issues of epistemology, ethics and utility.
Following the Politics, Place and Privilege conference we recently held with Swinburne, we are particularly interested to discuss how these methodological approaches draw out (or don't) issues around questions of privilege.
Presenters will discuss the methodologies they are using in their work, and reflect on how this engages with the themes above.
Workshops are held once a month. You don't need to RSVP, but if you register for the series we will advise you of any changes: cidrn@vu.edu.au.
Please check back for any last minute changes.
Program 2017



Wednesday 29 March, 1-2pm. D309

Tom Clark, College of Arts and Education
Voloshinov's hashtag: Towards a methodology for researching the reception of political rhetoric
April 26, 12.30pm. G417

Stefan Schutt, College of Arts and Education
Marsha Berry, Digital Ethnographies Research Centre, RMIT

Nailing down the cloud: doing fieldwork in ephemeral online gathering places
Tuesday 23 May, 2-3pm. A323

Debra Smith & Mario Peucker, Centre for Cultural Diversity and Wellbeing,

HuyQuan Vu, Centre for Applied Informatics, College of Engineering & Science
Methodologies for Bridging the Artificial Divide? Online/Offline activism in far-right movements
Debra, Mario and HuyQuan will discuss their mixed-method approach to examining the online and offline recruitment and propaganda activism of far right movements in Victoria; the methodology systematically combines social media (online) data mining and 'traditional' offline fieldwork (interviews, focus groups).
Thursday 27 July, 1-2pm. A323

Robert Pascoe, College of Arts and Education
Be Pannell, The Victoria Institute
Deleuzo-Guattarian methods
Rob will be discussing how Deleuzo-Guttarian theory can be employed to understand frontier contexts, using his work with Stefan Schutt on late Ottoman Palestine as an example.
Be will discuss how the Deleuzo-Guttarian method of 'symptomatology' can be used to reconceptualise issues of health and illness in psychology.
Tuesday August 29th, 1-2pm.

Room D309
Alison Baker, College of Arts and Education

Moving from voice to resonance through Youth Participatory Action Research


Ali will be discussing a fledgling youth participatory action research project with New Change, a collective of young African-Australian women in Melbourne's west. 
Monday September 18th, 2.30-4pm

Room A432
Julie Stephens College of Arts and Education,
David McCallum, Centre for International Research on Education Systems, &

Gavin Ivey, College of Health and Biomedicine
Psycho-social methodologies
As a transdisciplinary practice, psychosocial studies is premised on the connection between our cultural and social worlds and their psychological and intersubjective dimensions. In order to understand either the fragile relations between contemporary groups and communities, or their dynamism and strength, we need to examine the emotional, imaginary and symbolic aspects of, for example, colonial histories, racism, trauma or place, as well as developing social and political explanations suited to these increasingly precarious times.
October 25, 2.30pm

Room D309
Helen Widdop-Quinton, College of Arts and Education
'Child-framed' methodologies: young people as active research collaborators
For more information: cidrn@vu.edu.au